642 E Colorado Blvd
Pasadena Ca 91101
(626) 449-0040
LA Cash for Gold
™

; how our staff test's your gold.

The best way to accurately evaluate your items is to bring them into our location so that we may test each item out. This process will give you the knowledge you will need to know that you are selling your gold for the right price. Each of LA Cash for Gold™ employee is trained by the owner of the company who has over 15 years of experience in the jewelry manufacturing industry and is a 3rd generation master jeweler. Our Staff has the most on hand training and experience in the industry.

We have a completely different prospective when it comes to purchasing your valuable items such as Diamond Jewelry, Coins and Flatware. Our ability to buy your diamonds and precious metals allows us to recycle the goods purchased to feed our onsite wholesale and retail jewelry manufacturing supply and demand, very efficiently. This is the main reason we are able to pay more than our competitors because we use all purchased components first hand.

What to expect when you come into sell your gold jewelry, coins and flatware. Our trained staff will personally evaluate each item one by one. They will use a standard magnet to remove any fake steel based magnetic costume or fake jewelry. All items will be checked with a loupe to verify markings or stamps used to indicated the karat or purity percentage on the piece. LA Cash for Gold™ employees use microprocessor based state of the art digital electronic technology which allows us to safely and non-destructively determine gold purity content up to 24 karat in Yellow, White, Rose and Pure Gold. Karat readings appear directly on LCD display which is then shared with the customer. Our electronic gold tester works by computerized control analyzing signals from the electrochemical process and converting it to karat and European standard value in a numeric display.

Items are divided by karat class 10K to 24K in plastic jewelry zip lock bags. In some situations when heavy gold plating is present on your item we will need to slightly file some of the metal to get to the core. We may also need to do acid tests on those plated items at the time of sale to ensure we have the proper karat reading. Each bag is weighed in Grams, using a Mettler Toledo Jewelry Scale designed to weigh in troy. Troy is the only legal form of measurement that is used in the precious metals exchange worldwide.

Each bag is calculated by its Gram Weight and by its karat classification; using our Cash for Gold Calculator.

Note: You can use this tool at home for estimates on your own to see how the calculation process works.

To evaluate or sell Gold or Diamonds to LA Cash for Gold™ you must first be 21 Years of age or older. Once you accept our offer you are required by law to present proper state ID or state Driver's License so we may prepare the appropriate paper work. You will receive an invoice with complete breakdown by Karat, Gram, Gram Price, and Payout. All payments are made in Cash. This will allow you to make any immediate payments, without having to rush to the bank. Avoid companies that use out of state checks that require 5 to 7 days to clear. On certain large transactions over $20K for your personal preference we will offer you the choice of a check, you can immediately cash at your bank.

We make the process of liquidating and selling your gold easy, convenient and educational. Most important our location is safe and secure, it has plenty of free street parking, along with many public parking lots in the area.

For Location and Store Hours Please Use this LINK and come in for your free quote.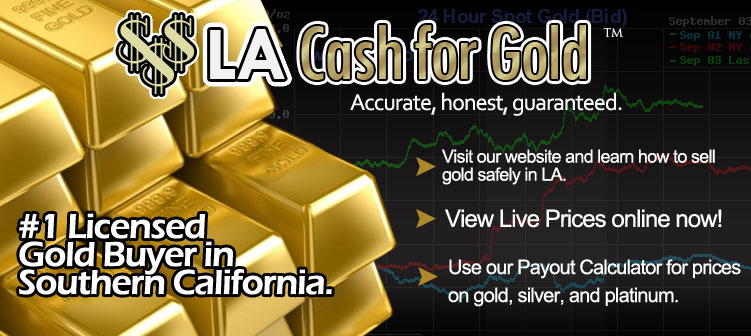 We reserve the right to refuse service to anyone that may not have proper identification or merchandise that wrongfully be obtained by the individual.