642 E Colorado Blvd
Pasadena Ca 91101
(626) 449-0040
The Current Pay out Price for 20 Mark German Gold Coin Coins are:
20 MARK GERMAN GOLD COIN $ 403.21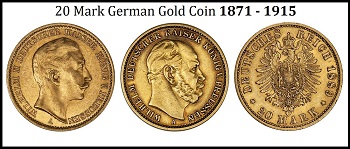 1871 and 1915
Contains .2304 Troy oz of actual gold content.
The face value of 20 Marks was issued by the German Empire
On the obverse is the image of the German Emperor.
Reverse includes the crowned imperial eagle of Germany.
Manufacturer Berlin and German Mints
Thickness 1.5 mm
Diameter 22.5 mm
Denomination 20
Condition Circulated
Face Value 20 Marks
Issuing Country Germany
Edge Design Lettered
Series 20 Marks
Weight .2304 Troy Ounce - 7.16 Grams
Purity .900