642 E Colorado Blvd
Pasadena Ca 91101
(626) 449-0040
Host a Gold Party Locally with Diamond Gold Party!
Diamond Gold Party allows customers to arrange an event to earn extra income. By gathering friends, family, and coworkers, they will be able to bring with them their unused jewelry and precious metals that is just collecting dust to be appraised and sold for top dollar. Please visit our website and read about our services to see how you can become a host or just attend a gold party event today. It's always nice to make extra money and pay off bills or to save for that next vacation.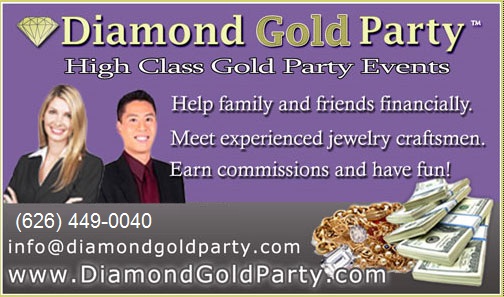 Please call us at (626) 449-0040 to book your Gold Party or Go on www.DiamondGoldParty.com and book your reservation.